Underneath (1995)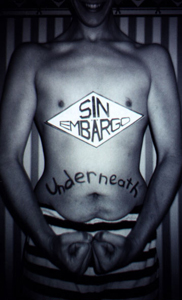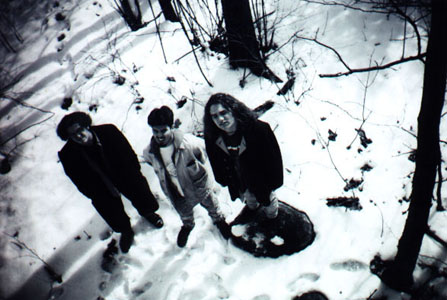 ABOVE LEFT: "Beamer's Belly", the Underneath cover. Photo by Jason Hofer.
ABOVE RIGHT: Band photo (Jason/Eric/Kyle) inside the Underneath sleeve. Photo by Dan Beam, March 1995.

Below is a list of the songs on Underneath, plus who wrote them, and when:
SIDE ONE:
Stated As Underrated (K. Kipp) - February 1994
Official Mandation (K. Kipp) - June 1993
Between 17 (K. Kipp) - July 1994
Blowing Smoke/Majesty Of Tragedy (K. Kipp, E. Kipp) - May 1993
Beets, Butter & Piss (K. Kipp) - July 1993
SIDE TWO:
[sic] (K. Kipp, J. Hofer) - July 1994
Anton's Dream Machine (K. Kipp, E. Kipp) - August 1993
Fud (K. Kipp) - July 1993
MKULTRA (K. Kipp, E. Kipp) - September 1993
Personnel on Underneath:
Kyle Kipp - guitars & vocals
Eric Kipp - bass guitar
Jason Hofer - drums; noise guitar on "Beets, Butter & Piss", and secondary lead guitar on "[sic]".
All songs on Underneath Copyright © 1994, 1993 Sin Embargo. All rights reserved.

This recording Copyright © 1995 Sin Embargo. All rights reserved.
THE STORY BEHIND THIS ALBUM:
Underneath was Sin Embargo's real second album. In the spring of 1994, Lapeer area music scenester and eventual band friend Rob Newman offered to pay for the recording of Sin Embargo's next album at a real recording studio because he felt they were nice guys and had cool music, but that Nevertheless lacked in quality production. At this time, Sin Embargo was working on piecing together what was to become Nevertheless (Fixed & Remixed), and they only had about seven or eight new songs written for a second album. Still, Kyle, Eric and Jason felt that once they wrapped up a couple of other new tunes (namely "[sic]" and "Between 17") before Rob wanted recording to begin, there would be enough songs to begin a second album at this time. So, they jumped on Rob's offer and worked to get ready to record in the summer of 1994 because he was saving the band at least $1000 in album production costs. Rob took Sin Embargo over to Duck Ankles Productions 16-track (analogue) recording studio near Almont, Michigan in early July '94 for them to check the place out. On July 12, 1994, recording sessions began, with studio engineers Vicki Krings and Tim Lemke behind the boards. Due to some cash flow and scheduling problems, Sin Embargo was only able to do two recording sessions that July, two more in August '94, and two more in late October '94. After all these delays, mixing finally commenced in early November '94 and slowly but surely (about one session every two weeks!) carried on until it ended on February 1, 1995, when the album was mastered to DAT. (Of course, Sin Embargo felt that this was far too much time to spend working on a 9-song album, but since Rob was paying for it, they did not really complain!) The band then went on to get the album professionally duplicated onto 50-minute chrome cassettes, and it was officially released on April 14, 1995. The odd cover concept arose from the brain of Kyle, who had first experienced classmate Dan Beam's liquid belly in the summer of '94 and felt that it had to be put on the cover - just for something shockingly different. Ironically, this cover idea came up before Sin Embargo had even settled on Underneath as the title, so the exposed belly kind of ended up tying-in with the "underneath" concept. In mid-1995 and 1996, a couple of the songs off of Underneath - namely "Between 17" and "Stated As Underrated" - were played on a couple radio stations for a time, but that knocked off quite quickly due to the album's cassette-only format. Although the production values of Underneath were much more "slick" than Sin Embargo had anticipated (compared to their live sound or previous recordings), people still seemed to like the album and it sold fairly steadily - racking up some favorable published reviews. There are still a small number of copies left for sale at this time - check the merchandise page for more information.

Back to the Sin Embargo Home Page.

Last modified on November 16, 2002.

This page Copyright © 1997 - 2002 Sin Embargo. All rights reserved.