Nevertheless (1993)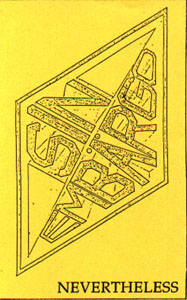 This list shows the songs that appeared on Nevertheless, plus who wrote them, and when:
SIDE ONE:
In My Eye (K. Kipp, E. Kipp) - December 1992
Bucky-Johnny-George (E. Kipp, K. Kipp) - October 1992
Maternal Kernal (K. Kipp, J. Kilburn, E. Kipp) - January 1993
Elba (K. Kipp, E. Kipp) - February 1993
Are We Dead Yet? (E. Kipp, K. Kipp) - November 1992
Suicide Fly (K. Kipp, E. Kipp) - January 1993
Elaborate Decor (K. Kipp) - October 1992
SIDE TWO:
Fat Man Belching (K. Kipp) - August 1992
Spy Hunter (K. Kipp) - December 1992
Mosh O' The South (K. Kipp) - December 1992
The "Boy" (E. Kipp, K. Kipp) - February 1993
Mistress Morbosa (E. Kipp, K. Kipp) - September 1992
Chuck's Adventure (In The Woods) (K. Kipp) - October 1992
Arcane Glyph (K. Kipp) - July 1993
Goes Down/Killing Babies (K. Kipp, J. Pasquale, E. Kipp) - October 1992
Personnel on Nevertheless:
Kyle Kipp - guitar & vocals
Eric Kipp - bass guitar
Mike Boyd - drums
All songs on Nevertheless Copyright © 1993, 1992 Sin Embargo. All rights reserved.

This recording Copyright © 1993 Sin Embargo. All rights reserved.
THE STORY BEHIND THIS ALBUM:
The original Nevertheless cassette was Sin Embargo's first album. It was recorded on a Fostex X-28 four-track in six days between August 16 & September 19, 1993 in the Kipps' basement (later named "Cat Box Studio") in Elba, Michigan, with their old chum Mike Boyd - of Beatnik Mecca & Lapeer County Rockers fame - recording, "engineering", and drumming. Technically, at that time, Kyle's old classmate Derrick Teal was Sin Embargo's drummer, but for some wimpy reason or another, Teal was unable to commit to recording with Sin Embargo at that time. So, Kyle and Eric asked Mike Boyd if he was up to doing it. (Mike was a somewhat better drummer in their opinion, anyway...) Using Teal's clunkery drum set, Mike bashed out the 15 songs (plus a couple of outtakes*) with Kyle and Eric that appeared on the original Nevertheless. Believe it or not, there was not a single overdub on the album; everything was recorded live in the basement. Kyle and Mike mixed the album in mid-October 1993 at the Kipps' house. (Teal was officially canned from Sin Embargo about this time as well...) Eric thought of the title Nevertheless because it was the main word that "sin embargo" translated into English from Spanish. Nevertheless was officially released on 60-minute cassette on November 5, 1993, and it sold semi-decently considering the low-fi recording quality and do-it-yourself production values. The album was discontinued in the spring of 1994 when Kyle and Eric decided that they could tweak it up by re-recording some of the better songs with Jason Hofer since he tightened up many of the older tunes with a stronger drumming style during the few months after he joined the band in mid-November '93. Plus, they had access to slightly better recording and mixing equipment, and Jason had written his own comical-yet-cool new song "Library" in March 1994 that Kyle and Eric felt needed to be put on a new Sin Embargo release. Nevertheless was officially replaced by its new counterpart Nevertheless (Fixed & Remixed) in August 1994.
* an early version of "Blowing Smoke/Majesty Of Tragedy" (which later appeared on Underneath in far better form - with Jason Hofer drumming), and an 8-minute-long, untitled improv jam which had Eric on drums, Kyle on bass, and Mike Boyd on guitar that was just labeled "Jam #1".

Back to the Sin Embargo Home Page.

Last modified on August 9, 2001.

This page Copyright © 1997 - 2001 Sin Embargo. All rights reserved.