Eric Kipp - bass guitar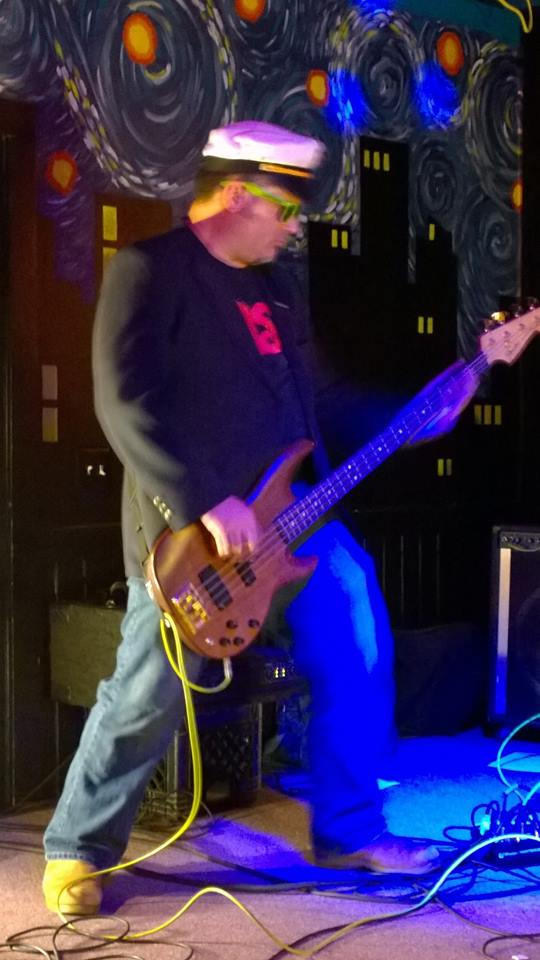 ABOVE: Eric live with Sin Embargo at Crossroads Bar in Ypsilanti, MI on January 24, 2015 (Photo by Catherine Ione)

BAND stuff:

As Sin Embargo's one-and-only bassist (since July of 1992), Eric came up with the band's name & logo (after four years of high school Spanish classes), and is responsible for weaving a solid but dynamic low-end that locks in with the drums. Eric took some drum lessons for a few months in late 1988/early 1989 (age 14), but ended up switching to bass guitar by late 1991 (age 17). He was too cheap to take any real bass lessons at a music store, so he learned most of what he knows from Kyle, and figured some stuff out on his own.

Eric's other duties in the band include maintaining the sprawling Sin Embargo website (www.sin-embargo.com), live-recording nearly all Sin Embargo gigs, and curating the band's expansive live tape library (with various band recordings going back to October 1992).

Eric's enjoys all kinds of music from dozens of bands, but the groups he's seen perform live the most are Rush & Van Halen.

From January 2002 to May 2003, Eric also played bass in the Sin Embargo side-project Dirty Money under the stage name "Greasy *E*".
In March 2006, Eric actually played drums with Kyle at a Las Drogas show at TC's Speakeasy in Ypsilanti, MI.

EQUIPMENT:
MAIN LIVE SETUP:
Mahogany finished 1998 Fender P-Bass "Lyte" 4-string (pictured above)
Black 1996 Washburn "Bantam Series 4-string (BACKUP)
600-watt Carvin R-600 "Cyclops" combo amp (1999)

And, for those who remember:
Eric still has the red 1980's-era Kramer "Focus" 4-string bass (sometimes referred to as "the surfboard").
Kyle bought the old Gibson Super Thor "cat piss" bass amp from Eric in November 2001.
NOTE: In December 2004, Super Thor was purchased from Kyle by the Briggs family in Stamford, Connecticut as a Christmas gift. (See photos here.)

OUTSIDE the band:
Born September 10, 1974 in Lapeer, Michigan USA.
Employed full-time as a Project Engineer (road & highway design) at Spalding DeDecker Associates, Inc. in Rochester Hills, MI.
Licensed Professional Engineer (P.E.) in the State of Michigan since June 2003.
Graduated from Lawrence Technological University in Southfield, MI - B.S. in Civil Engineering, December 1998.
Graduated from Wayne State University in Detroit, MI - M.S. in Civil Engineering, December 2001.
Attended UM-Flint (September 1992 - June 1995) & Lapeer West High School (Class of 1992).
Member of Chi Epsilon (since May 1997) and Tau Beta Pi (since December 1998).
Married to Amy on June 21, 2002.
Daughter Kayla Elizabeth born on March 17, 2006.
Hobbies include music, the Simpsons, good comedy movies & TV shows, walking, biking, bonfires, weather, mockery, etc...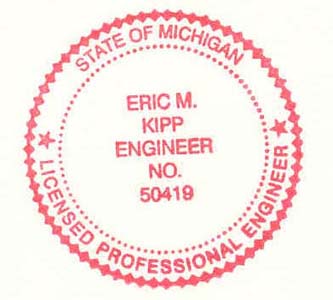 GET A HOLD of Eric:
E-mail kipperic74@yahoo.com
Back to the Sin Embargo Home Page.
Last Modified on March 12, 2017.
This page Copyright © 1997 - 2017 Sin Embargo. All rights reserved.