Kyle Kipp - guitar & vocals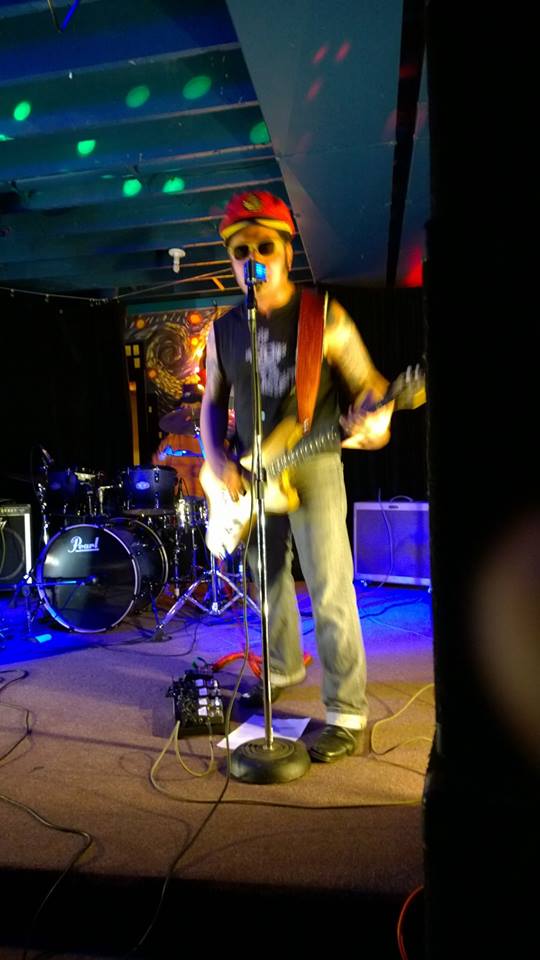 ABOVE: Kyle "KK Dirty Money" Kipp performing live with Sin Embargo at Crossroads Bar in Ypsilanti, MI - January 24, 2015 (photo by Catherine Ione)

STATS:
Kyle is Sin Embargo's jovial guitarist/singer and main songwriter....
Born: Lapeer, Michigan on August 10, 1977, and co-founded the band with brother Eric in late July of 1992.
Certified high school physical science & psychology teacher since August 2000.
Certified librarian/school media specialist since December 2003.
Currently full-time faculty librarian at Ann Arbor Public Schools since August 2016.
Currently part-time substitute librarian with Ypsilanti District Library since January 2016.
Assistive technology specialist at Washtenaw Community College from January to August 2016.
Full-time high school media specialist faculty at Lincoln High School near Ypsilanti, MI from January 2004 to August 2015.
Part-time faculty in the physics department of Washtenaw Community College from December 2003 to April 2005.
Stage manager and sound & lights operator at the Elbow Room in Ypsilanti from 2002 to 2007.
Married Catherine Ione on May 29, 2016.
Graduated with honors from Lapeer West High School - June 1995.
Graduated Cum Laude (3.55 GPA) from Central Michigan University (B.S. in Secondary Education) - August 2000.
Graduated Cum Laude from Wayne State University (Masters of Library & Information Science) - December 2003.

BAND:
Kyle's duties in the band include writing a majority of the original music, booking shows, handling public relations, heading up album artwork direction, and coordinating many other crucial tasks needed for Sin Embargo to be a rockin' & rollin' giggin' live band.

Since 2003, Kyle has slowly been building a private home recording studio. In the fall of 2005, he named this studio "El Ojo" and has recorded several bands/projects there since then.

Other Fun Facts: Kyle conjured up the names for the Sin Embargo albums Underneath and Super Fugue.

Other bands Kyle has performed in:

Black Jake & the Carnies (guitar & backing vocals, 2015 - present) Las Drogas (guitar/vocals, 2005 - present) Mercury Salad Sandwich (drums & backing vocals, 2017 - present) Gruesome Twosome (drums & backing vocals, 2015 - present) The Fancy Lads (vocals, 2013 - present) the Devil Elvis Show (guitar & backing vocals, 2008 - 2015) The Electromags (bass guitar & backing vocals, 2009 - 2010)
the Sunday Painters (bass & backing vocals, 2007 - 2010)
the 77s (guitar/vocals, 2006 - 2009)
the Stillhouse Six (guitar & backing vocals, 2003)
the Powerstrippers (guitar/vocals, 2002 - 2003)
KK Dirty Money & Las Drogas (guitar/vocals, 2002 - 2005)
Amygdela (live guitar & backing vocals, 2002)
Dirty Money (guitar/vocals, 2001 - 2003)

Kyle began to play guitar at age 11 in the fall of 1988. He assumed vocal duties for Sin Embargo in the fall of 1992, when the band could not find a suitable lead singer and no one else in the band dared to sing the songs that he penned. Kyle has also given guitar lessons on a semi-formal and professional basis on and off since high school. Kyle also enjoys playing bass, drums, theremin, and keyboards in his spare time. In 1994 and '95, Kyle wrote and recorded all by himself about a dozen of his original songs on four-track for a solo release entitledThe Life Of A Sandwich. (A couple of songs on this album were re-recorded by Sin Embargo for Super Fugue.) A few more of his own tunes were written and recorded on 4-track post-Sandwich circa 1997-2000. All these 4-track recordings were re-mixed & remastered by Kyle and Joel Butts at Watchtower Recording in Owosso in July 2001. This collection of rare tunes is available upon request for merely the cost of a blank CD-R (e-mail Kyle at kylerkipp@gmail.com to request a copy).
Main Interests:
Rockin' n' rollin', socializing, keeping busy, watching/listening to live music, writing and performing music, collecting music recordings (he has a vast audio-library ranging from blues to jazz to rock and just plain strange stuff), freelance journalism & writing/photography for music newspapers/zines (Kyle has written for voxpopzine.com, Renegade Newsletter, Jam Rag, Rock Fiend International, Uprising, etc...), reading (usually music history/biography), horticulture, motorcycling, bicycling, canoeing/kayaking, camping, cooking, home brewing, photography, skiing, boating/sailing, watching high quality films/movies, etc... bla bla bla...

Favorite Band influences (not a complete list, and in no particular order):
Fugazi, John Spencer, Johnny Cash, Zen Guerrilla, Link Wray, Man or Astroman?, Beck, Amazing Royal Crowns, Mudhoney, G. Love & Special Sauce, Morphine, Massive Attack, Tricky, Portishead, Iggy & the Stooges, MC5, Social Distortion, Immortal Lee County Killers, The Clash, Alan Lomax Recordings, Boss Hog, Tom Waits, John Lee Hooker, John Fayhe, Charles Mingus, White Stripes, FudgeGUN, Lapeer County Rockers, Phantom Trigger, Le Triggers, Mazinga, Those Legendary Shack Shakers...

Main Guitar Gear:
A variety of custom-made partscasters coupled with a '68 Fender Princeton Reverb amp.
One-of-a-Kind design (by Kyle), hand-crafted custom Luczak semi-hollow 6-string, made from scratch (2001) see photos
One-of-a-Kind design (by Kyle), hand-crafted Wortley "Custom K" semi-hollow 6-string, made from scratch (1997) see photos

If you are interested in having SIN EMBARGO play at your party or venue, please e-mail Kyle.
Back to the Sin Embargo Home Page.
Last modified on February 17, 2019.
This page Copyright © 1997 - 2019 Sin Embargo. All Rights Reserved.