former Sin Embargo drummer Nevada Parsons (2004-2005)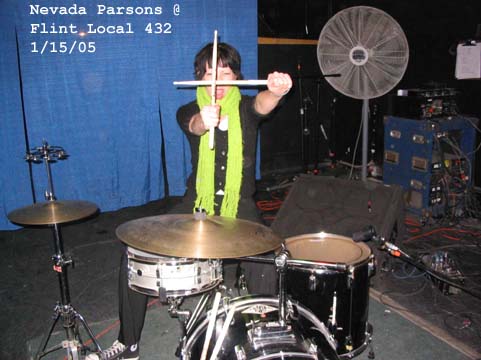 ABOVE: Nevada Parsons before the show at Flint Local 432 - January 15, 2005 (Photo by Eric Kipp.)
BAND STUFF:
Nevada Parsons began working with Sin Embargo in January 2004, after becoming a member of KK Dirty Money & Las Drogas in December 2003.
She made her live debut with Sin Embargo on February 6, 2004 at Undertone in Owosso, MI.
Nevada was Sin Embargo's 8th drummer, and was the band's first female member.
She also played drums for Las Drogas (formerly "KK Dirty Money & Las Drogas") from December 2003 to August 2005.
Her last Sin Embargo appearance was August 20, 2005 at the Elbow Room in Ypsilanti, MI.
STATS:
Born "Sierra Nevada Parsons" on May 17, 1983 in Trenton, Michigan, and raised in Wyandotte, MI.
Moved to Ann Arbor in 1997 and graduated from Ann Arbor Huron High School in June 2001.
Last known residence in Ypsilanti.
Nevada's previous job experiences include:
The Ugly Mug - Ypsilanti (2005 - 2007) as a coffee barista
Bombadill's Neighborhood Coffeehouse - Ypsilanti (2004-2005) as a coffee barista
Rio Bravo Fresh Mex Cantina - Ann Arbor (2002-2003) as a waitress & hostess (where she first encountered Kyle)
Pacific Sunwear (2001-2002)
Car wash manager (1999-2001)
MUSICAL INFLUENCES:
Stone Temple Pilots, White Zombie, Soundgarden, AFI, Nirvana, Foo Fighters, Rage Against The Machine, Audioslave, Von Bondies, Forbidden Dimension, Depeche Mode, Nine Inch Nails, Johnny Cash, White Stripes, Those Legendary Shack-Shakers, KMFDM, and various electronic bands.
HOBBIES:
Reading horror novels (H.P. Lovecraft, Stephen King), seeking out strange and disturbing music and movies, playing with rats, knitting, climbing trees/lightposts/railroad crossing signals, bike-riding and hiking, baking fattening foods, and amateur plant-collecting. Also was a member of the Ann Arbor/Ypsilanti-based Monkey Rampant sketch comedy troupe in 2004-2005.
EQUIPMENT:
As you can see in the photos above, Nevada used Kyle's black Pearl "Export" drum set - the same one that Jason Hofer, Chad Calton & Ed Stark used to play...
SO, WHY DID I BECOME A DRUMMER?
"Back in 1994 when I first joined the school band, I had my eyes set on those wonderful skins. Then my mother said "Over my dead body," and the clarinet was thrust into my hands. But that love for drums never faded away, and over the years at different workplaces, I would assemble various items of different timbre and beat on them until a manager would threaten firing or death. So in November of 2003, when Kyle remarked that it would be easier to train a drummer than to find one who actually knew what they were doing, that's exactly what happened. I was taught. And a drummer was finally born. (For those who are making White Stripes references in their heads right now...great band, but Meg White couldn't drum her way out of a paper bag...)"
Back to the Sin Embargo Home Page.
Last modified on January 19, 2008.
This page Copyright © 2004 - 2008 Sin Embargo. All rights reserved.