Former Sin Embargo drummer Chad Calton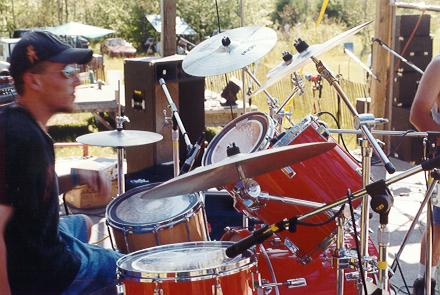 Chad live at the 5th annual F.R.E.A.K. Show in Oil City, MI - June 19, 1998. (Photo by Jaysin Harris.)

* * * * * *

Chad was Sin Embargo's 6th drummer, before he abruptly quit the band on March 16, 1999. Born on July 3, 1979, Chad was also the youngest person ever to be in the band. Chad joined Sin Embargo in February 1998 after his predessor (and successor!) Ed Stark quit and moved to South Carolina in December 1997. Ed Stark's predessor Jason Hofer graciously drummed at Sin Embargo's January 14, 1998 show at Rubble's in Mt. Pleasant to keep the band afloat before Chad was added. Chad was planning to make his debut in Sin Embargo (with Jason Hofer assisting) at a show at Mt. Pleasant's Cactus Club on February 21, 1998, but that gig was canceled at the last minute by the incompetent promoter. However, Chad was finally able to make his live debut with Sin Embargo on March 21, 1998 at Clio's Spider Trap Lounge.

In May 1998, Chad completed his freshman year at Central Michigan University in Mt. Pleasant, majoring in Broadcast/Cinematic Arts, but ended up transferring out of CMU since he was planning to go to The Recording Workshop recording engineering school in Chillicothe, Ohio (where Jason Hofer went) from April 19 to June 3, 1999. Though originally from the Grand Rapids area, Chad ended up being raised in the small town of Fowlerville, Michigan, (about 25 miles southwest of Flint) and graduated from Fowlerville High School in June 1997. While in high school, Chad played in the school's concert, jazz, and marching bands, plus drummed in the Fowlerville-based local rock bands "Negative Memories" and "Abhor". He also nearly became the drummer for the Ann Arbor-based metal band "Harm's Way" after he graduated from high school.

Chad's favorite bands included Faith No More, Pantera, Korn, White Zombie, Metallica, Tool, Mr. Bungle, Led Zeppelin, the Doors, the Rolling Stones, Black Sabbath, GWAR, and Cream, among others.

In early November 1998, Chad purchased then-former Sin Embargo drummer Ed Stark's red 6-piece Pearl World Series drum set (as seen in the F.R.E.A.K. Show photo above.) Chad combined Ed's former drum set with some parts of his own old drum set to create the kit that he used during the last few months he was in Sin Embargo.

* * * * * *
Back to the Sin Embargo Home Page.

Last modified on February 3, 2008.

Copyright © 1998-2008 Sin Embargo. All Rights Reserved.