Sin Embargo drummer Ed "Eddiebaby" Stark (1997, 1999-2003, 2008-present)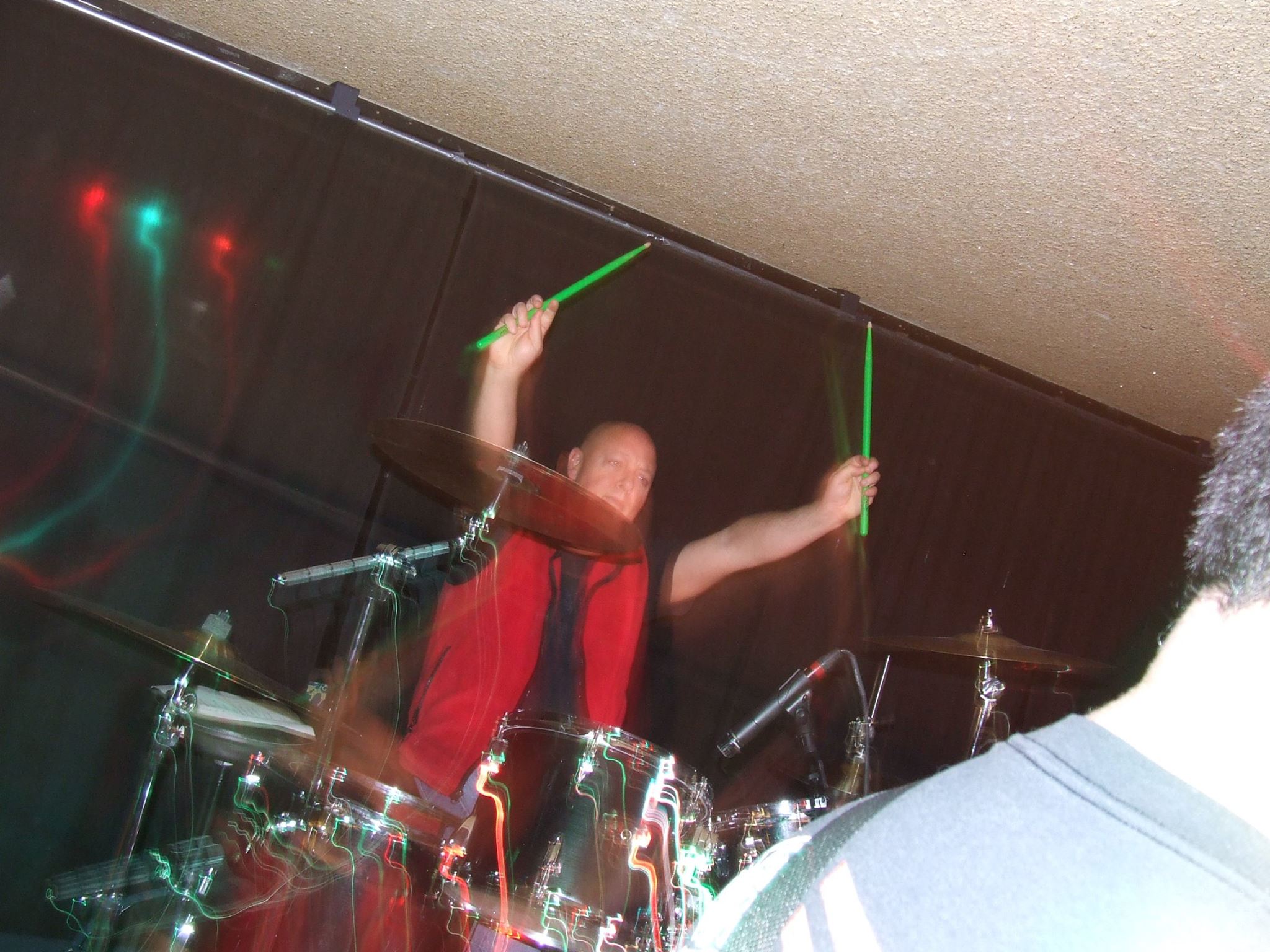 ABOVE: Ed "Eddiebaby" Stark live with Sin Embargo at Cascaddan's Lounge in Metamora, MI - May 14, 2016 (photo by Catherine Ione)

* * * * * * * * * * * * * * * * * * * * * * * * * *
Edward "Eddiebaby" Stark, the "elder statesman" of Sin Embargo, was born on August 24, 1972, and was raised in Oil City, Michigan. Blending such diverse percussion influences as John Bonham (Led Zeppelin), Neil Peart (Rush), Carter Beauford (Dave Matthews Band), Keith Moon (the Who), and a myriad other progressive rock/metal and jazz drummers, Ed has laid down the hard-to-reproduce percussion half of Sin Embargo's rhythm section on and off since January 1997. Being the only person to ever be in Sin Embargo THREE TIMES, Ed has been Sin Embargo's 5th (and 7th & 9th) drummer during the band's long and winding history. Eddiebaby currently resides in Livonia, MI with his wife Ann-Marie (a.k.a. "Laney"), whom he married on August 21, 2016.
Notable facts & timeline:
Began playing drums at the age of 10 (1982)
Played drums in a few local rock & metal bands in the Midland, MI area during his high school years (1987-1991)
Graduated from Bullock Creek High School near Midland, MI in June 1991
Served in the US Marine Corps - mainly being stationed in Japan (June 1991 - March 1995)
Began attending Central Michigan University in Mt Pleasant, Michigan in August 1995
First met Kyle during Sin Embargo drummer auditions in Mt Pleasant in September 1996
Originally joined Sin Embargo, replacing previous drummer Jason Hofer , in January 1997
Left Sin Embargo (first time) in December 1997
Lived in Hilton Head, South Carolina from December 1997 to June 1998
Returned to Mt Pleasant in June 1998
Resumed classes at Central Michigan University in August 1998
Sat in for then-Sin Embargo drummer Chad Calton at Columbiaville Days gig in August 1998 and New Moon Records gig in Mt Pleasant in January 1999
Re-joined Sin Embargo following Chad Calton's departure in March 1999
Resided in the Ann Arbor/Ypsilanti/Saline area from summer 2002 to summer 2003
Appeared on the Sin Embargo/Dirty Money "split" CD Blowin' Mud , which was recorded in March 2002 and released in October 2002
Graduated from Central Michigan University with a BS in Secondary Education (Spanish major, French minor) in December 2002
Played percussion in "Las Drogas", the backup musicians for Kyle's solo act "KK Dirty Money" from January to May 2003
Moved from Ypsilanti, MI to Walled Lake, MI in the summer of 2003
Left Sin Embargo (second time) in August 2003 to focus on full-time teaching job in the Walled Lake School District (teaching middle school foreign language classes)
Moved from Walled Lake, MI to Pontiac, MI in March 2004
Re-joined Sin Embargo (again) following a band hiatus in the summer of 2008
Also played drums for Rochester, MI based honky-tonk band "Babe Miller & His 10-4's" from February 2012 to October 2013
Toured Illinois, Iowa & Wisconsin with "Babe Miller & His 10-4's" during the summer of 2012
Appeared on the Babe Miller recordings "Foreclose My Heart" EP (released February 2013) and "Babe!" (released August 2013)
Moved from Pontiac, MI to Livonia, MI in the fall of 2015
Married to Ann-Marie (a.k.a. "Laney") on August 21, 2016
For the JASON HOFER-to-ED STARK-to-CHAD CALTON-to-ED STARK Story (Fall 1996 - Winter 1999), click here.
Ed can be contacted by e-mail at eddiebaby72@hotmail.com
Back to the Sin Embargo Home Page.
Last modified on March 12, 2017.
Copyright © 1997 - 2017 Sin Embargo. All Rights Reserved.