... and your little dog too! (Bad Dog Records, 2000)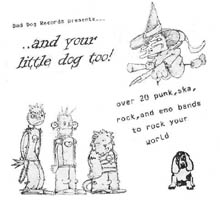 Released in September 2000 on Bad Dog Records from Dimondale, MI, ...and your little dog too! is Sin Embargo's third appearance on a compilation CD. The CD contains 27 tracks from different rock, punk, metal and hardcore bands - most of which are originated in lower Michigan, with others from as far away as New Jersey, Florida, California & Japan! Sin Embargo's contribution to the CD is the punkish "In Need". Copies of ...and your little dog too! are no longer available from Sin Embargo since they have been sold out (as of June 2001), but you may still be able to order them directly from Bad Dog Records. Check out the Bad Dog Records website or e-mail Ben Graham for more information regarding ...and your little dog too!

Track listing (song title and band) for ...and your little dog too! :
Moper (Allister)
Just Fine (the Van Ermans) (previously unreleased)
Evil Twin (Link 80)
Blind (the Madbutchers)
This Time (RxBandits)
Do For You (Misunderstood)
Radio (Potshot)
Today (Negligent Youth)
Oval Eyes (Krud!)
Stand Your Ground (Whippersnapper)
All Thumbs (Fighting Chance)
Somora Laura (Ruth's Hat)
Hit or Miss (A New Found Glory)
No Worries (Big Al's Coaster Club)
Goodbyes Have Been Said (Tuesday)
Too Many Questions (the Bank Robbers)
Michigan Ave. (Hi-Jinx)
Inflamed (Hoppin' Mad)
In Need (Sin Embargo)
Chicago Is Burning (Lawrence Arms)
Claustraphobe (Lemon Scented)
Can I (Razor Dave)
My Way (19th Hole)
Battling The Nothing (Whereabouts)
Parental Advisory (Masterplan)
Used To Be My Friend (Brainfreeze)
Shut Up (the Grandprixx)
This Compilation © 2000 Bad Dog Records. All Rights Reserved.
Bad Dog Records
9867 Mardan Drive
Dimondale, MI 48821
Back to the Sin Embargo Home Page.
Last Updated on August 9, 2001.
This page Copyright © 2000 - 2001 Sin Embargo. All rights reserved.