37 Soljaz Vol. 1 (37 Productions, 1999)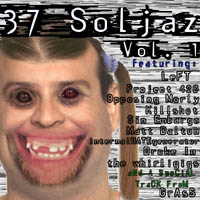 Released in November 1999 on 37 Productions from Frankenmuth, MI, 37 Soljaz Vol. 1 is Sin Embargo's second appearance on a compilation CD. The CD contains 37 tracks from different rock, punk, metal and hardcore bands - most of which are originated in mid-Michigan. Sin Embargo's contributions to the CD are "Power Me" and "In Need". Copies of 37 Soljaz Vol. 1 are available from Sin Embargo and all the rest of the bands included on the CD, and directly from 37 Productions. Check out the 37 Productions website or e-mail Matt Dalton for more information regarding 37 Soljaz Vol. 1.

Track listing (song title and band) for 37 Soljaz Vol. 1:
Intro
Comisseration (Left)
Take My Hate (Left)
Strokin' Part 1
Apt. 32 (Project 420)
New Life (Project 420)
Number Eight
Everything (Opposing Morley)
The Way It Should Be (Opposing Morley)
Strokin' Part 2
War (Killshot)
Brainkandy (Killshot)
Strokin' Part 3
Power Me (Sin Embargo)
In Need (Sin Embargo)
Intermission
Broken Kaleidoscope (Matt Dalton)
Souvenir (Matt Dalton)
Brak
I Hate Your Mom (Internal Hate Generator)
Crack Head Down (Internal Hate Generator)
Hammer Pants
Waste Of Thoughts (Broke In)
Don't Wanna Go (Broke In)
Strokin' Part 4
I Wet The Bed (the Whirligigs)
Peephobia (the Whirligigs)
Shack In The Woods Theme Song
Drop The Funk (Grass featuring Matt Dalton)
This Compilation © 1999 37 Productions. All Rights Reserved.
37 Productions
5 Parkview Ct.
Frankenmuth, MI 48734
Back to the Sin Embargo Home Page.
Last Updated on August 9, 2001.
This page Copyright © 1999-2001 Sin Embargo. All rights reserved.